This wiki is still in development, please feel free to contribute.
Currently the main goal is to get images of everything.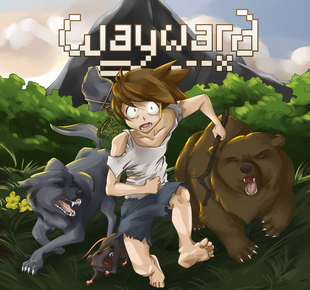 Wayward is a turn-based, top-down, wilderness survival roguelike game, currently in beta.
You can purchase Wayward on Steam for $7.99 USD here
You awake to discover yourself no longer in the company of good men or a fine seafaring vessel. Treasure... you remember something about a treasure. Wayward is a turn-based, top-down, wilderness survival roguelike. Explore, build, and most importantly survive in these unforgiving lands.
Wayward is a challenging turn-based, top-down, wilderness survival roguelike.
In Wayward, there is a large focus on simulation, survival, and openness. There are no classes; there are no levels. Progression of your character depends on individual skill and stat gains by your interactions with items or objects in the world. You are free to play and explore the game in any fashion you wish.
Wayward will continue to grow, expand, and evolve over time to open up new modes of play, add depth and complexity, add content, and further refine the systems presented. You are free to come along for the ride as we try to make this game a truly unique experience through our iteration and through your feedback.
Wayward's key features:
5 distinct environment types to explore – all generated procedurally.

Over 350 items to craft, discover and interact with.

More than 30 nasty creatures and animals to combat and harvest.

Sandbox game mechanics mixed with roguelike gameplay and heavy inventory management.

Deep, multi-faceted skill system with over 25 skills.

Open-ended and open-world gameplay.

Online multiplayer with optional PVP mode.

Optional permadeath (hardcore), or respawning (casual) modes.

15+ hours of content and gameplay before reaching the "end-game".

Day and night system.

Modding and Steam Workshop support.

Play in turn-based (default) or real-time modes.

Character customization.

Dynamic reputation and difficulty system.

Ability to rollback to the last 25 versions or play the latest development build of the game before public release via Steam.

Iterative game design and community feedback driven.
These abilities impact your success at crafting, combat, and many other activities. A list of skills can be found in the skills page.